Certificate Awarding Ceremony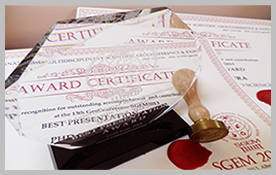 Certificate Awarding Ceremony
Every year, during an Official Award Ceremony, all speakers (Lecturer, PhD Student, Workshops or Invited Session Speakers) receive a Certificate of Attendance given personally by one of the Scientific Chairmen of the conference.
SGEM VIENNA 2017 CERTIFICATE AWARDS
During these 4 days the audience will be encouraged to give its vote to the best presentations by filling a respective nomination form. At the same time, session chairmen will have the hard task to evaluate each presentation - they should fill in another evaluation form and forward it to the Scientific Chairmen. As a final result, authors of the highly evaluated and most nominated presentations will be awarded with a AWARD CERTIFICATE and a SPECIAL CRYSTAL PLAQUE.
---
We look forward to receiving your interesting papers and very captivating presentations.
Eager to welcome you all, we are expecting with great interest your new researches and scientific achievements!
---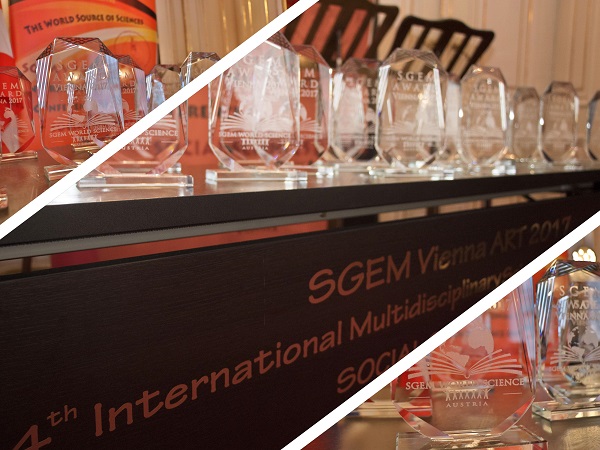 SGEM Vienna 2017 HOFBURG Conference, AWARDED SPEAKERS
Assoc. Prof. Dr. Thomas Chatzigagios, University of Macedonia, Greece / INTELLECTUAL PROPERTY ASSETS AS LOAN COLLATERAL: A NEGATIVE MUTATION OR A FINANCING INNOVATION?
Prof. DSc. Nataliia Sibatulina, Plekhanov Russian University of Economics, Russia / THE NEW SETTING OF THE TAX SYSTEM IN RUSSIA
Assoc. Prof. DSc. Irina Filimonenko, Siberian Federal University, Russia / ECONOMIC VALUE ADDED AS AN INDICATOR OF REGIONAL ECONOMIC GROWTH
Mr. Yang Xiong, Beihang University, China / RESEARCH PROGRESS AND PROSPECT ON ORGANIZATIONAL LEARNING
Ing. Dragicevic Zoran, FH Burgenland, Austria / IMPACT OF THE AMENDMENTS TO THE AUSTRIAN DISABILITY EMPLOYMENT ACT IN THE YEAR 2011 ON THE NUMBER OF DISABLED EMPLOYEES
PhD Student Oliver Menk, University of Latvia, Latvia / THE QUANTITATIVE VALUE OF CONFIDENCE FOR THE LEADERSHIP OF KEY-EMPLOYEES
Assist. Prof. Jiri Vevoda, Palacky University in Olomouc, Czech Republic / GENDER DIFFERENCES IN WORK VALUES OF PHYSICIANS
Dr. Emanuel Tundrea, Emanuel University of Oradea, Romania / WESTERN VERSUS EASTERN BIG DATA PRIVACY CONCERNS AMONG YOUNG GENERATION
Assoc. Prof. Daniela Patti, University Kore of Enna, Italy / SACRED SPACES AND LANDSCAPE IN CENTRAL SICILY BETWEEN LATE ANTIQUITY AND EARLY MIDDLE AGES
Assoc. Prof. Dr. Nina Sokolova, Peter the Great Saint Petersburg Polytechnic University, Russia /FROM TOTALITARIANISM TO CONSUMER SOCIETY: THE END OF ONE-DIMENSIONAL POLICY?
Dr. Ignacy Nasalski,  Jagiellonian University, Poland /SEXUAL HARASSMENT IN THE ARAB WORLD FROM EVOLUTIONARY PERSPECTIVE - REASSESSING ESSENTIALISTS EXPLANATIONS
Assist. Prof. Dr. Sarka Vevodova, Palacky University in Olomouc, Czech Republic / EMPATHY AS A RISK FACTOR FOR BURNOUT
Arch. Eng. Lenka Kormanikova, Technical University of Kosice - Faculty of Civil Engineering, Slovakia / ARCHITECTURE CREATED BY THE WIND
PhD. Wang Yi-Ting, University of Paris 8 Vincennes-Saint-Denis, France / THE SCULPTURE-ENVIRONMENT AS A TERRITORIAL RESEARCH METHOD - THE REFLEXION OF THE MILIEU
Ms. Maria Mikaelyan, Politecnico di Milano, Italy / POST-WAR HOUSING IN GREAT BRITAIN: HISTORICAL PREMISES, GOVERNMENTAL POLICIES AND CULTURAL TENDENCIES
Drs. Gitte Schreurs, KULeuven, Belgium / INSIGHTS ON THE RECONFIGURATION OF FRAGILE INDUSTRIAL WATERFRONTS THREATENED BY CLIMATE CHANGE AND ECONOMIC DECLINE: THE CASE OF CONEY ISLAND CREEK, NEW YORK
Assist. Prof. Dr. Loncar Marija, University of Split, Croatia / LANGUAGE IN THE SERVICE OF ADVERTISING IMAGES: TEXTUAL ANALYSIS
Prof. Olga Borodkina, Saint Petersburg University, Russia / HIV PREVENTION AMONG INTERNATIONAL YOUNG MIGRANTS:PROBLEMS AND PROSPECTS
Assoc. Prof., dr hab. Katarzyna Szymanska-Stulka, Fryderyk Chopin Academy of Music, Warsaw, Poland / MUSIC AND ARCHITECTURE IN SPACIOUS CONNECTIONS
Prof. D.Sc. Ph.D. Eng. Arch. Jerzy Uscinowicz, Bialystok University of Technology, Poland / PROFANUM VS. SACRUM
CLICK HERE TO VIEW ALL PHOTOS FROM THE CEREMONY
SGEM Vienna 2016 HOFBURG Conference, AWARDED SPEAKERS
Section Political Sciences
Assist. Prof. Martin Chovancik, Masaryk University, Czech Republic / IRAN COERCION SUCCESS AND THE USE OF NON-KINETIC TOOLS TO SUPPORT SANCTIONS AND PREVENT MILITARY ESCALATION
Mrs Liga Mirlina, Turiba University, Latvia / TRANSFORMATION OF RELATIONS BETWEEN PUBLIC ADMINISTRATION AND SECTOR OF NON-GOVERNMENTAL ORGANIZATIONS IN LATVIA: TRENDS AND CHALLENGES
Assoc. Prof. Lucia Mokra, Comenius University Bratislava, Slovakia / THE ROLE OF NATIONAL HUMAN RIGHTS PROTECTION INSTITUTIONS AND EFFECTIVE MODEL OF COOPERATION
Mr Robert Dobo, University of Pecs, Hungary / ICE-KRIM: THE NEW COLD WAR
Assoc. Prof. Zdenek Kriz, Masaryk University, Czech Republic / TREATY ON CONVENTIONAL ARMED FORCES IN EUROPE AND ITS IMPORTANCE IN THE CURRENT INTERNATIONAL SECURITY ENVIRONMENT
Section History
Assist. Prof. Gregor Pobezin, University of Primorska, Koper, Slovenia / PAST OF ANOTHER KIND – DOXOGRAPHERS, MYTHOGRAPHERS, LOGOGRAPHERS AND THE LOT
Assoc. Prof. Andrea Ragusa, Interuniversity Centre for History of Social Change and Innovation- University of Siena, Italy / CULTURAL HERITAGE: A BRIDGE BETWEEN WESTERN AND EASTERN EUROPE. POLITICS FOR TUTELAGE AND VALORIZATION IN A COMPARATIVE APPROACH
PhD Heruday-Kielczewska Magdalena, Adam Mickiewicz University, Poland / MEMORY OF THEATRES – INSIDE THE ARCHIVES
Section Philosophy
Prof. Ilya Kasavin, Institute of Philosophy, Russian Academy of Sciences, Russia / PHILOSOPHY OF SCIENCE MEETS POLITICAL PHILOSOPHY: A NEW CONVERGENCE
PhD Alina Gavrilut, Alexandru Ioan Cuza University, Romania / THE MATHEMATICS OF AXIOMATIC SYSTEMS IN THE COGNITIVE PERCEPTION OF REALITY
Assist. Prof. Andrejs Cekuls, University of Latvia, Latvia / ASPECTS OF ETHICS AND SOCIAL RESPONSIBILITY IN COMPETITIVE ENVIRONMENT: RESEARCH IN LATVIA
Prof. Marta de Grandi, Erasmo da Rotterdam, Italy / MAN WITHOUT FOUNDATION IN PIETRO PIOVANI
Section Architecture and Design
Dr. Arch. Andrea Sfogliarini, Politecnico di Milano, Italy / METHODS AND TOOLS FOR THE PROJECT OF ADAPTIVE REUSE OF VACANT OFFICE BUILDINGS
PhD Flaviu-Cristian Leontiuc, Polytechnic University Timisoara, Romania / SUSTAINABILITY OF THE INTERVENTION FOR THE HYGROTHERMAL REHABILITATION OF A HISTORICAL BUILDING USING AN INNER HEAT INSULATION WITH AIRED LAYER
Assist. Prof. Levente Szabo, Budapest University of Technology and Economics, Hungary / REDEFINITION OF THE HOUSE-ARCHETYPE. ONE OF THE TYPICAL ARCHITECTURAL STRATEGIES AFTER THE PERIOD OF REGIONALISM IN HUNGARY TODAY
PhD Maria Elisabetta Ruggiero, Universitа degli Studi di Genova, Italy / DRAWING AS A METHOD FOR THE CREATING PROCESS OF NAVAL INTERIOR DESIGN
PhD Magdalena Rembeza, Gdansk University of Technology, Poland / SHAPING PLACES BY ART. THE ROLE OF CREATIVE PLACEMAKING IN PHILADELPHIA
Mrs Jonna Majgaard Krarup, KADK The Royal Academy of Fine Arts, School of Architecture, Denmark / CLIMATE CHANGE ADAPTATION PLANNING IN REGIONAL CITY-LANDSCAPES.
Section Contemporary Arts
Mgr.Art Martina Simkovicova, Academy of Fine Arts and Design, Slovakia / IMAGE AS AN EVENT. GEOGRAPHIC PRINCIPLES IN PHOTOGRAPHIC IMAGE
Section Performing and Visual Arts
Assist. Prof. Aigars Ceplitis, RISEBA University, Latvia / RHIZOMATIC NARRATOLOGY IN 360 DEGREE SPHERICAL CINEMATOGRAPHY
Prof Jacqueline Holzer, Zurich University of the Arts ZHdK, Switzerland / LEADERSHIP IN PERFORMATIVE ARTS
Prof. Edson Zampronha, University of Oviedo, Spain / EXTRACTING PROGRESSIONS OF COMPLEX HARMONIES FROM CONCRETE SOUND OBJECTS
Section History of Arts
Prof. DSc. Konstantin Zenkin, Moscow P.I.Tchaikovsky Conservatory, Russia / WHAT IS NATIONALISM IN MUSIC AND HOW CAN IT EXIST?